Our Gratitude for and Remembrance of the Most Beloved Bishop Michael Yeung Ming-Cheung
2019-01-09
Our Gratitude for and Remembrance of
the Most Beloved Bishop Michael Yeung Ming-Cheung
Introduction to Morning Prayer (for schools' reference)
Dear teachers and classmates, our most respected Bishop of the Hong Kong Catholic Diocese, the Most Reverend Michael Yeung Ming-Cheung, peacefully passed away at the age of 73 on the afternoon of January 3 at 1:30 pm. People from all walks of life deeply regretted the passing of Bishop Yeung, and the Church was deeply saddened by the loss of a most respected and beloved pastor. We gather together today to express our reminiscence of and gratitude to him.
Born in Shanghai in 1945 and growing up in Hong Kong, Bishop Yeung was ordained a priest in Hong Kong in 1978. He dedicated himself to shepherding the flock of Christ. He once served as the President of Caritas-Hong Kong, and led the institute to "love in the service of hope" in different social welfare fields, providing assistance and services to the "Last, the Least and the Lost", benefitting the community and witnessing God's love.
To uphold family values, Bishop Yeung expressed audaciously to society at large his reproof for surrogacy and homosexual behavior. In order to solicit financial resources to maintain and develop services to the poor and the marginalized, he endured the criticism and ridicule of the alleged "clamping onto those with power" and willingly turned his endurance into sacrifices to the Lord*. He would not hesitate but would righteously humble himself before the tycoons for the sake of those in need.
Bishop Yeung was a learned pastor holding a Bachelor degree in Theology, Master degrees in Communication and in Education, respectively, and a Doctoral degree in Social Sciences. He had been a Parish Priest, a Vicar General, an Auxiliary Bishop and the Coadjutor Bishop of the Diocese. He became the Bishop of Hong Kong in 2017 and actively led the Church to move forward and care for the underprivileged. He had contributed a lot to the education of Hong Kong. Over the years, he had been striving to establish the first Catholic University in Hong Kong to render a more comprehensive Catholic education in Hong Kong to serve the next generations, ranging from young children of pre-schools to undergraduates of tertiary institutes. Under his leadership, the Church adhered to the spirit of providing quality education and continued to promote the five core values of Catholic education in order to actualize its vision and mission.
Bishop Yeung had great concern for youngsters. He soon established for the Diocese the "Year of Youth" after taking office, paying special attention to the development of youth pastoral work. In the meantime, he actively participated in youth activities from time to time, listening to young people's requests and attending to their developmental needs. In recent months, Bishop Yeung took a step further to establish 2019 as the Year of "Practice, Belief, Youth" as a continuation of the previous focus so as to inspire young people to step out from the virtual world and to live in the authentic interpersonal relationships, with mutual help and love being established at each present moment.
Bishop Yeung often cared about the poor and charity work. He loved the Church, taking her to his heart. Just as the bible verse on his Episcopal Coat of Arms "Arise, let us go forth from here!", which is the last sentence of Jesus' encouragement and comfort to the apostles after the Last Supper before setting off for the Garden of Gethsemane, Bishop Yeung knew it well that the road ahead was tough and winding. Yet he still embraced God's will with "the tranquility, the peacefulness and the composure"** of Christ. Another clue is from the Great Wall and the Lion Rock on his emblem, indicating that though he was in Hong Kong, the Church in mainland China was always on his mind. In his homily during the past Christmas Mid-night Mass, a public Mass at which he presided for the last time, he earnestly requested all of us to pray for the Catholic communities in mainland China, because they are among the persecuted and the victims. He pointed out that while we have the High-speed Rail, the Hong Kong-Zhuhai-Macao Bridge and the Greater Bay Area, many poor people, who have names and identities, and who have the same Creator as we do, are suffering and are waiting for rescue or relief. They are like Jesus, who has been rejected because "there is no place for him in the inn"; and who "has come to his own place, but his own people have not accepted him". Bishop Yeung guided us to reflect on the persecution and suffering of the poor. Is this the result of our indifference and unconcern in our daily lives?
Today, our most beloved Bishop Yeung has returned to the Lord. We should keep in mind the teachings of Bishop Yeung, adhering to his will to follow Christ and join with others in building God's Kingdom on earth.
* 生命恩泉 訪問時任明愛管理局及理事會主席的楊鳴章副主教 https://youtu.be/7LIn0i6W-Xc (影片 Video)
** 摘自25.12.2018楊鳴章主教的子夜彌撒講道https://youtu.be/CxH_uxF4N6Q (影片Video)
Memorial Prayer for Bishop Michael Yeung Ming-Cheung
Prayer
Eternal Father, You have raised Your Son, Jesus Christ, from the dead and has brought hope for eternal life to mankind. Thank you for giving us Bishop Michael Yeung, a faithful and courageous pastor. He responded to Your call in both word and deed. He had dedicated his life, set us an exemplar and led the Church closer to You. Lord, let Your light shine upon his soul and lead him to the Heavenly home. For this, we pray to You, Lord.
Response: Lord, hear our prayer.
Our loving Father, Your Son, Jesus Christ, is our eternal Good Shepherd. You have lovingly sent bishops to feed your flocks. Please have pity on Your servant, Bishop Yeung, who served the church faithfully till his last breath, who devoted himself wholeheartedly to Catholic education, who spared no effort in serving the poor and the least of our brothers, and who still had the agenda of youth formation in his heart in his last days. We thank him for his leadership and guidance. Lord, we beseech you to embrace him with Your heavenly peace and eternal happiness. For this, we pray to You, Lord.
Response: Lord, hear our prayer.
Almighty God, our Good Lord, we firmly believe that those departed still live in You, in whom the saints find the fullness of happiness. Although you have called Bishop Yeung back to be with You, we implore You to help our young people keep in their hearts what Bishop Yeung had witnessed, taught and set as exemplars with his life, that they may bear fruit and realize their unique youthful potential, that they may establish with all others relationships of mutual help, respect and Christian love in everyday life. For this, we pray to You, Lord.
Response: Lord, hear our prayer.
The Lord's Prayer (to be said at the end) "Our Father in Heaven, holy be Your Name……"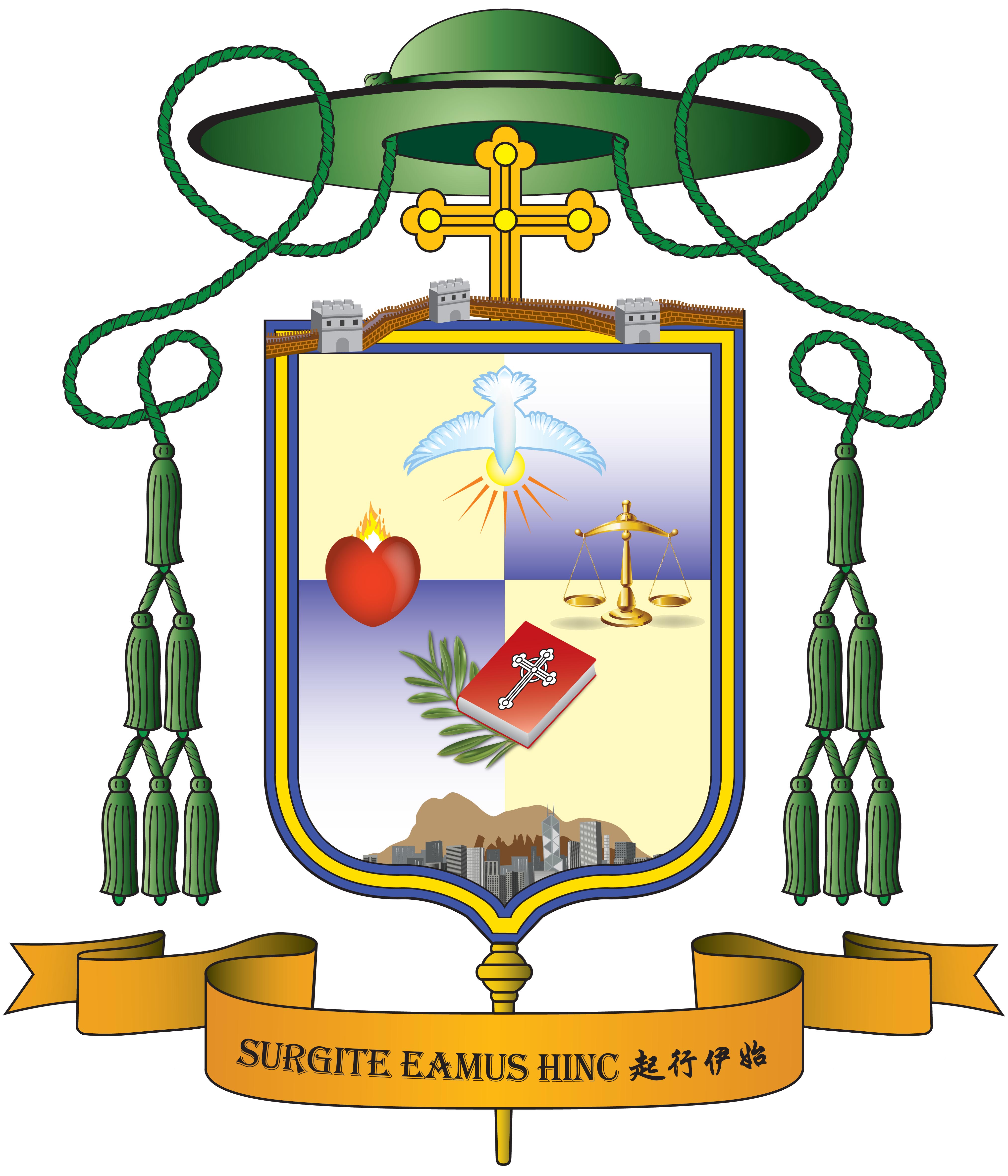 參考資料 :《公教報》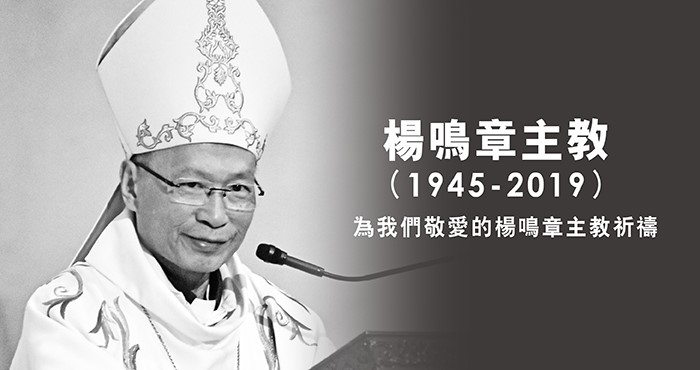 (公教報訊) 天主教香港教區楊鳴章主教因肝硬化導至肝衰竭,自去年十二月廿七日進入嘉諾撒(明愛)醫院接受治療,至一月三日下午一時三十分安息主懷,享年七十三歲。請信眾同為楊鳴章主教的安息祈禱。 http://kkp.org.hk/node/18066
香港主教楊鳴章簡歷
出生年份、地點:1945年12月於上海
晉鐸日期、地點:1978年6月10日於香港,屬香港教區
教育:
澳洲天主教大學榮譽博士(2005年)
香港公開大學榮譽社會科學博士(2004年)
美國哈佛大學教育學碩士(1989年 – 1990年)
美國錫拉古斯大學傳理學碩士(1980年 – 1982年)
意大利羅馬宗座傳信大學神學學士(1971年 – 1978年)
曾任主要職務:
天主教香港教區主教(2017年8月1日就任)
天主教香港教區助理主教(2016年11月至2017年7月)
天主教香港教區輔理主教(2014年8月至2016年11月)
天主教香港教區副主教(2009年4月至2017年7月)
香港明愛理事會主席
香港明愛管理局主席
馬爾他騎士團團牧
聖神修院神哲學院神哲學講師